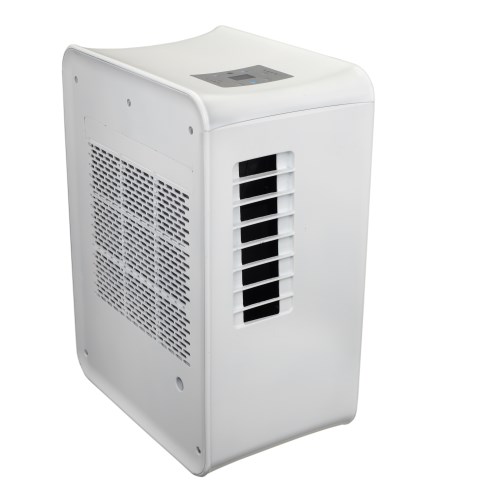 This A/A++ energy efficient portable air conditioner from electriQ is the highest quality of our 8-10,000 BTU units. It is also one of our most popular all-in-one units. The AirCube DELUXE is not only a fantastic air conditioner; it's also a heater, dehumidifier and fan, making it the perfect all-year-round domestic or commercial product.
This mobile model boasts the most efficient type of cooling and heating without compromising on performance and is made for rooms up to 25 sqm (270 sqft). A unique evaporation booster helps cooling the refrigerated air further through the evaporation of water, while the large outlet delivers a refreshing, cooling effect. The AirCube DELUXE only requires 0.95 kW of power to produce 2.6 kW of heating, which works out far more cost-effective when compared to electrical or central heating.
This unit also dehumidifies up to 50 Litres Per day. The AirCube DELUXE works straight out of the box and does not require any permanent installation. It is extremely portable and easy to move from room to room thanks to the hidden castor wheels. The electronic control panel is user friendly and can be operated by the remote control supplied.an
Why this air conditioner is right for you:
High build quality
Cooling, Heating and Dehumidifying
A/A++ Energy Efficiency
All year round climate control
Space-saving Design, Touch Panel Controls
9,000 BTU (2.6kw) Cooling and Heating
Very low power consumption
Great for Homes, Offices, Caravans or Boats
Ideal for medium sized rooms up to 25 sqm (270 sqft)
Intelligent microprocessor for improved energy efficiency
This air conditioner is packed full of features:
Electronic panel display
24-hour start / stop timer
Remote control and hidden remote storage
Unique evaporation booster for high efficient cooling
3-speed turbo fan with automatic and sleep mode
R410A green refrigerant for improved cooling
Reverse cycle heating, efficient and easy to convert
Temperature range: 17-30°C
Cable management compartment at the back
Technical Information:
4 in 1 unit with Heating,  Cooling, Fan, Dehumidifier function
Dehumidification max L/day 50
Air flow (at high speed) – m³/h 360
Power supply (V) 220-240
2.6 kW Cooling, 2.6 kW Heating
9,000 BTU
Running Power consumption (W) 1.1 kW (cooling), 0.95 kW (heating)
Running Current: 4.6 Amps (4 Amps for Heating)
Refrigerant R41A
1.5 m hose and window kit supplied as standard
Noise dB – Noise Level: 46-52 db low/high mode(sound pressure method)
EU label: max 62 dB (sound energy EER method)
12 Month hassle free warranty!
Dimensions:
Dimensions: 33×53.8×63 (WxDxH)
Weight: 23Kg