Product Information
Portable cooling without compromise
Beat the heat this summer and stay both cool and comfortable with the Arctic 2-in1 air cooler from electriQ. This portable yet powerful air cooler is designed to cool large areas up to 60 sqm and can be used straight from the box. The beauty of the Arctic air cooler is that it generates a steady stream of cold air through evaporation, which unlike conventional air conditioners doesn't require the need for any window venting kits or any permanent installation.
Evaporative cooling of air also has the added benefit of conditioning the air with more moisture for added comfort. Simply add water to the 48L water tank and enjoy cool air all day long. The Arctic air cooler is perfect for using in well ventilated rooms and boasts a very powerful air throw for cooling commercial spaces like warehouses, marquees and restaurants.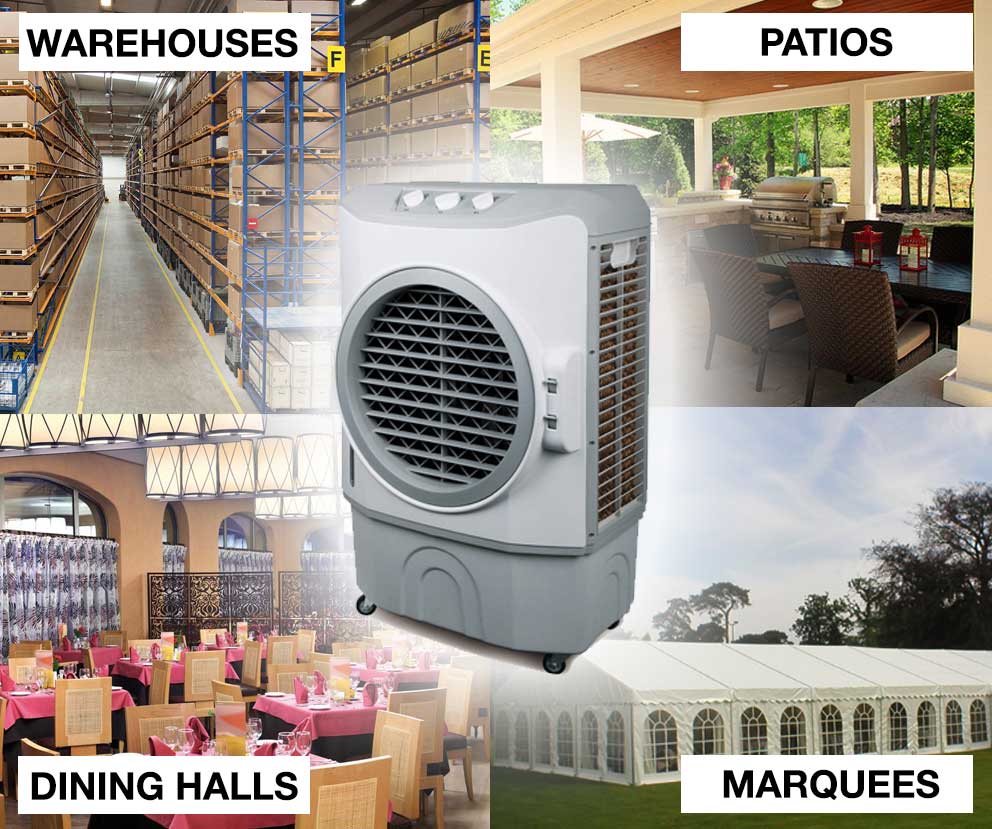 Feature packed
For total control and convenience this model boasts three fan speeds and directional louvers. There's even an option for a continuous water supply connection with a built-in overflow protection system to ensure long unattended operation - again, perfect for more demanding commercial applications. The four durable castor wheels allow you to easily roll the unit from one space to another. The cooler can also be used as a humidify to help combat dry air that can have a negative effect on those with respiratory conditions and allergies.
How it works?
Stage One
Warm air is pulled into the back of the machine and through the dust filter.
Stage Two
The air is passed through an enhanced honeycomb filter which is wet with water from the tank.
Stage Three
The water evaporates and is pushed out of the front of the machine by a fan to create a soothing cool breeze.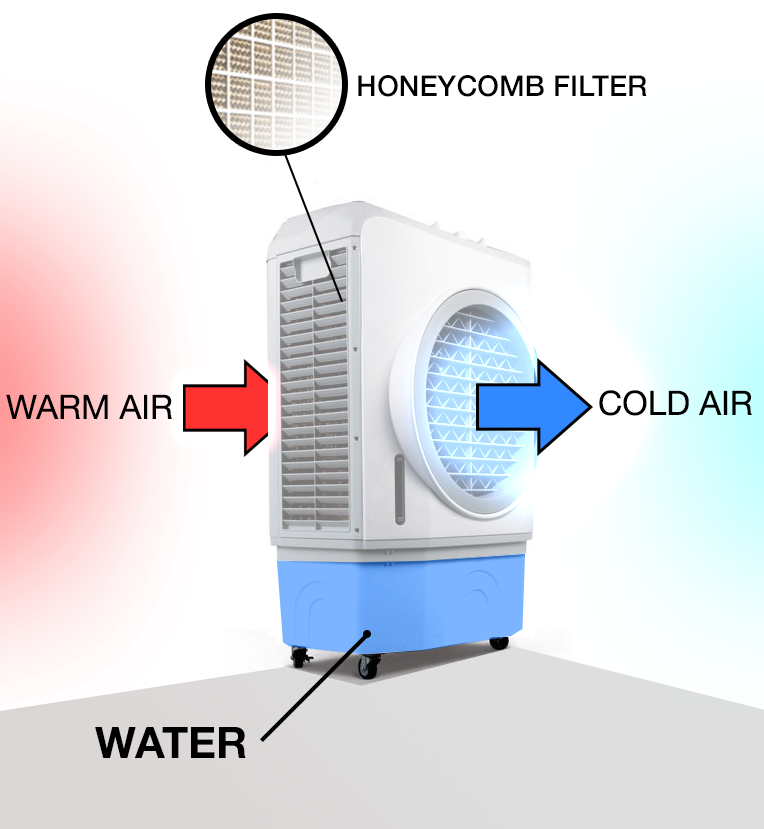 Please Note: Stock of this Air Conditioner often sells out fast due to the low price and small size, so we advise that you order as quickly as possible to make sure you dont miss out.
Why is this cooler right for you?
Humidifies and cleans the air as it cools
Defined by its name, Arctic is one of the most powerful coolers
Strong air flow makes it great for cooling well ventilated indoor or outdoor large room or spaces
Low eco-friendly running costs
Quiet cooling
Powerful air throw for a strong cool breeze
Automatic swinging louvers for better air distribution
Large water tank and pump protection
Portable and castors ideal for temporary operation
Continuous water inlet option for uninterrupted operation 
Airflow:  2100m3/hr
This air cooler also features:
3 fan speed settings for best balance between maximum cooling and quiet operation
Directional louvres with swing function natural cooling breeze
Easy to  move on castor wheels
Water tank indicator
Easy to use mechanical controls
Technical information:
Water Tank 48 litres
140 watts max power
Dimensions - 61.3 (L)x37.5 (W)x88.2(H)cm
Weight - 13.3 kgs

The ARCTIC is an evaporative air cooler cooling the air by means of evaporation. When water evaporates into the air, the result is a mixture of air and water molecules. This chemical change requires heat which is taken from the water molecules, resulting in a spot cooling effect, the temperature drop. The air is passed through a special honeycomb cooling pad which expands the evaporation surface and improves the cooling effect while doubling as an air filter. The evaporative coolers must be used in rooms or spaces with good ventilation otherwise the room will get saturated with humidity and the effect of cooling will stop.