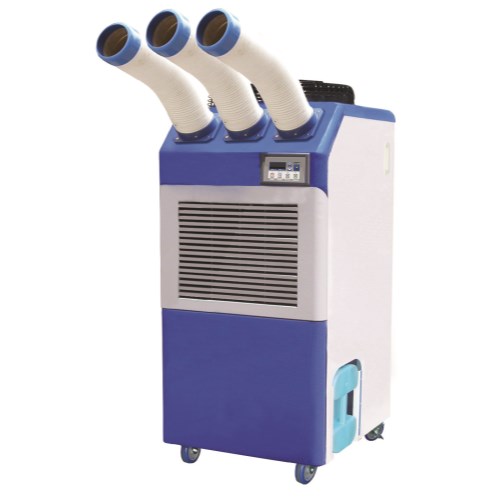 The unstoppable Typhoon TC25 MK3 is the latest 2015 industrial air conditioner from electriQ boasting raw cooling force  ans airthrow in sleek portable metal body.
Featuring 25000 BTU Air Conditioner of cooling power, this mighty Air Conditioner is effective in rooms up to 60 sqm and has a condensate tank capacity of 12 L, with 2.36 kW power consumption. Featuring lockable castors for portability, TC25 is a powerful model ideal for commercial or industrial air conditioning applications.
TC25 will operate with the greatest efficiency if it is situated outside the area to be cooled and the cold air ducted in using the three flexible hoses supplied as standard. Sit the TC25 on a firm, flat, level surface  and apply the brakes to the rear castors. For industrial spot cooling, no hot air ducting is required. If TC25 is being used to fully air-condition a space up to 60 sqm under the TC25 supplied thermostatic control, the warm air expelled by the fan on the top panel must be removed from the area being cooled. This portable air conditioning unit operates on a standard 13 Amp plug and is simple to set up as it is already assembled.  The chilled air is directed by three flexible hoses on the front of the unit enabling to cool several rooms. This makes the TC25 mobile air conditioner also great for spot cooling. The hot air extracted from the room is blown out the top of the unit and expelled up. If the unit is not sitted outside the space to be cooled  can be connected directly to 450mm ducting or  to 400mm ducting via the optional cowl (sold separately) and ducted away up to nine meters by the TC25 high powered fan.
Cooling Capacity (KW) 7.3
Cooling Capacity (BTU/h) 25000
Digital Thermostatic Controls with 1°C increments
2 Fan Speed Settings
Timer (hours) Yes
Condensate tray full light yes
Dehumidifying Capacity 65
Operating Temperatures: 18 – 45°C
Fitted Castors/wheels yes
Airflow volume: 565CFM (930 m3/hr)
Washable filters: Aluminum / Vinyl chloride
Noise Level dB(A) 62
Refrigerant R410a
Rotary compressor
Energy Rating: B
Max power consumption (2.7 kw)
Cold air ducting: 125 mm diameter; 3 x hoses supplied
Hot air ducting diameter: 450 mm without cowl; 400 mm with optional cowl (hot air ducting optional)
Hot air ducting maximum lenght: 9 meters
Voltage (V) 230 Single phase; 13 Amps
Frequency (Hz)50
Size (W x D x H)  mm:  560 x 620 x 1250
Net Weight (kg) 95
Gross Weight (kg) 100