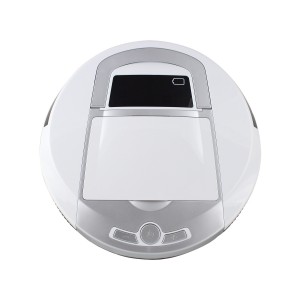 Save time and robo-clean your house
The thought of never having to walk around to vac the house again is one we all have dreamed of. Thanks to this robotic vacuum cleaner from ElectriQ, that dream can now become a reality. This futuristic vacuum cleaner transition easy between both hard floor surfaces and carpets. You don't even need to worry about it knocking into your belongings, it is fitted with anti-bump sensors that enable the robotic vacuum cleaner to stop and change direction and avoid stairs.This is not a sweeper but a real vacuum cleaner with powerful suction and the latest dual side brush system.
It is also fitted with HEPA filters that will ensure that your house not only stays clean but also improve air quality during the cleaning operation.
It is also incredibly easy to use, simply touch the start button and set your cleaning time using the plus / minus buttons. Measuring only 8.2 cm tall and only 31 cm in diameter, its slim profile allows it to clean in those hard to reach places, including under the furniture. The ElectriQ robotic vacuum cleaner is fitted with a carry handle and also a bag less easy to remove and empty debris container.
Operation includes simple to follow voice prompts, single touch ON / OFF button and adjustable cleaning timer.
Features:
Slim profile and footprint
Twin side brush system and powerful suction
Hepa filter improving air quality
Works on surfaces such as hard wood, tile, carpet, vinyl etc
Cleans under chairs and furniture
Simple operation with voice prompts and adjustable cleaning time selection
Automated full cleaning programs for maximum cleaning and area coverage
LED light showing charging status and blockage indicator for easy maintenance
Supplied with charger and extra side brushes