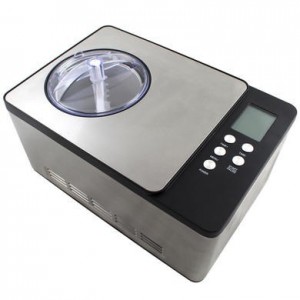 Many ice cream makers on the market require you to put the mixing bowl in the freezer up to 8 hours before you even start preparing your ingredients.
That's not the case with this electriQ machine.
All you need to do is measure and prepare your ingredients, add them to the machine and press go. Then in just an hour you'll be enjoying incredible ice cream in any flavour you decide to make.
It's so simple. The machine freezes as it mixes your ingredients, so there is no need to plan ahead. As long as you've got the ingredients, the electriQ Ice Cream Maker will be ready for action!
Features:
Create up to 2 litres of ice cream in just 60 minutes !
No need to pre freeze a bowl, the electriQ Ice Cream Maker does it all for you
Ice cream , cooling and mixing functions available
Motor Self Protection Function – the ice cream maker will automatically stop mixing if it detects the motor is overheating
Removable bowl for easy cleaning
Cooling range -18C ~ -35C
Powerful built in mixing system
Large LCD display indicates time and functions selected
Five function buttons – Power, Menu, Time +, Time – and Start/Stop
Digital timer can be set from 1 – 60 minutes
Can be used to make Gelato, Sorbet, Sherbet and Frozen Yogurt
Dimensions: LxWxH (mm) – 425 x 285 x 262
Net weight: 12kg